We service all imported car models

Mercedes Benz

BMW

Audi

Volkswagen

Volvo

Jaguar

Toyota

Lexus

Acura

Infiniti

Porsche
Services Available at Hi-Tech Import
Hi-Tech Import Auto Service is Downer Grove's neighborhood auto repair and service center. At Hi-Tech Import we treat your car like a member of the family. You depend on your car, so don't let just any mechanic put repair or service it. Let the professionals at Hi-Tech Import work on your car and give it back to you clean and pristine like it was when you first bought it!
Hi-Tech Import is pleased to offer a wide variety of the most commonly requested car maintenance and car repair services, specializing in Engine Repair, Transmission Repair, Brake Repair and Auto Electrical Service.
We are here to give you the flawless repair and service you deserve.
Call us for your next appointment
Preventive Maintenance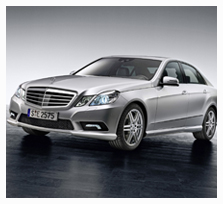 Listed or not, we're here to exceed your expectations with a full line of preventive maintenance services for all your vehicle repair needs! We provide the highest quality service for all Asian and European Imports, including Mercedes, Audi, BMW, Volvo, Acura, Honda, Lexus, Toyota, Subaru, Volkswagen and others. If you have a question about any service we offer, or if you would like to make an appointment, please don't hesitate to contact us
Service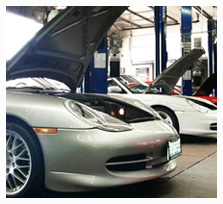 Same-day Service in Most Cases
Appointments Are Encouraged
Early Bird & Night Drop Check-in
Hi-Tech Import is a premium auto repair service and the ideal place to take your vehicle for servicing,
Why Hi-Tech Import?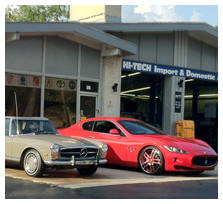 Whether your vehicle is in need of repairs or scheduled maintenance, Hi-Tech Import car service is the best place to come for quality, service, integrity and prices, that will get you back on the road, quickly and affordably. We offer our clients a dedicated care, total convenience, and absolute ease.
ABS Systems

Air Conditioning (A/C) and Heating

Airbags

Air Suspension

All Factory Maintenances

Batteries

Brakes

Clutches

Convertible Tops

Coolant, Brake, Power Steering & Differential, Flushes

Transmission Flushes

Diagnosis of Every System on Your Vehicle

Drivetrain

Electrical Repair

Emissions

Engine Repair

Exhaust Systems

Fuel Systems

Glass Repair

Headlights and Tail Lights

Heated Seats

Interior and Exterior Detailing

Leather

Mirrors

OEM German and European Parts Only

Oil Changes and Services

Pre-purchase Inspections

Radios

Safety Inspections

Starting and Charging Systems

Steering and Suspension

Sunroofs

Timing Belt Services

Tire Pressure Monitoring

Transmissions

Tuning and ECM Flashing

Turbos and Superchargers

Windows

Windshield Wipers