Audis provide a luxury experience while offering high performance on the road. With the power of an Audi, you must get your brakes regularly serviced to ensure you can safely stop. It is important to service your Audis brakes because they are vital in stopping your vehicle safely. Brakes are consumable items that need to be replaced routinely. If your brakes are not serviced, you can seriously injure or kill yourself, your loved ones, or other drivers.
If you experience trouble stopping or notice the signs that your Audi's brakes are going out, you should have your Audi inspected by our experienced professionals. Brakes are not something to put off. They need to be serviced as soon as you notice problems.
Why Is It Important To Get Your Brakes Serviced
Being able to stop properly while driving is essential to keep you and those around you safe. If you allow your brake pads to get too low, you will have reduced stopping power and could end up hitting someone or something that could have been avoided.
By inspecting your brake routinely and looking out for the trouble signs of a brake issue, you are ensuring that your Audi is safe to be on the road.
Common Signs You Need Your Audi's Brakes Serviced
There are several signs that you could look out for to determine if there is something wrong with your braking system. Let's review some of them below:
Brake light indicator: If the brake light indicator is lit up on your dashboard, it is telling you there is an issue with your brakes. Audis have sensors installed to help you identify an issue with your brakes, such as low brake pads.
The brake pedal vibrates when pressed. If you are experiencing a vibrating pedal or if your Audi shakes when you are pressing the brake pedal down, you likely have something wrong with your rotors. Uneven or warped rotors would cause these issues.
Leaking brake fluid: Your Audi uses pressurized brake fluid to engage and disengage the calipers, which then engages the brakes on your vehicle. If there is a leak, the master brake cylinder may not have enough fluid to engage your brakes properly.
You hear a grinding or squealing noise coming from your brakes. Most brakes have a brake indicator installed, which causes your brakes to squeal if they get too low. If you ignore the noise, it could lead to bigger issues. If left unattended, the brake pads could start grinding into the rotors, causing damage and reduced stopping capabilities. Get your brakes serviced once you start to hear noises from your brakes.
Your car pulls to one side when braking. If you push down on your Audi's brakes and it pulls to one side, you may have a caliper issue. Your calipers may not evenly distribute pressure to all your brakes, which would make your Audi pull to one side or the other.
If you are experiencing any of the above issues, you should have your Audi inspected with a diagnostic check by our expert mechanics. Having fully-operational brakes is a safety concern and should be taken care of immediately if you suspect an issue with your Audi. It could literally save your life or keep someone out of harm's way. Brakes need to be maintained. It is part of being a car owner. So do not delay getting service with something this important.
Brake Service At Hi-Tech Import Automotive
At Hi-Tech Import Automotive, we know the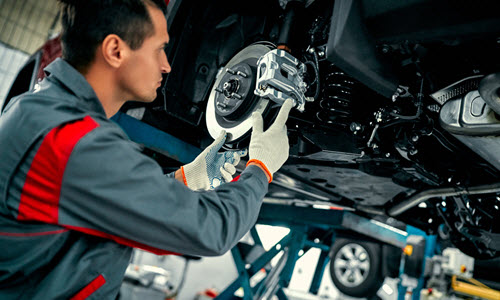 importance of safety. Our experienced mechanics are ASE-certified and can handle any task, including servicing your brakes. We are located in Downers Grove, IL, and are proud to serve the surrounding areas of Burr Ridge, Clarendon Hills, Hinsdale, Oak Brook, and Westmont.
You can rest assured that we will provide you high-quality service on your Audi, and we offer a 1-year/12,000-mile guarantee on all of our work. We are the go-to European auto brake shop in Downers Grove and the surrounding area.
If you need your brakes serviced, please call us today or set up an appointment online. We will provide you top-notch service at an affordable price. Check us out on Facebook and Google to see why people love us. We look forward to meeting you.
https://hi-techimport.com/wp-content/uploads/2021/03/Audi-Brake-Pedal.jpg
500
915
Nihat Salievski
https://hi-techimport.com/wp-content/uploads/2021/03/logo.png
Nihat Salievski
2021-03-23 17:48:43
2021-03-24 13:09:34
Audi Brake Service: Why it's important for Downers Grove Drivers