To maintain your Jaguar's AC system, you could follow several tips to keep their system up and running. Jaguars are high-performance vehicles that have solid engineering to keep them on the road. Still, they may experience AC issues if the system is not maintained properly.
It is not a fun experience being stuck in traffic with the sun glaring down on you if your AC does not work. You can save yourself the discomfort of the summer sun by ensuring that you follow a few tips. Let's go over several ideas you can use to keep your system running all year long.
Keep Your Air Filter Fresh
The car cabin air filter in your Jaguar is used to filter the air that is pulled in from the outside. The filter's main function is to keep things such as dust, pollen, pollution, and debris from circulating in your car cabin's air supply. It keeps you healthy by keeping your air clean.
Sometimes your Jaguar's cabin air filter gets dirty from use over time, or the debris from outside starts to clog the filter. A clogged filter will reduce the airflow and power of your AC, and it may also make annoying noises from behind your dash.
You have two options at this point: You can either clean the filter or replace it with a new one. If you decide to clean it, make sure you get all the debris out, and if you use water to clean it, make sure it is dry. We recommend buying a new one because it will improve the air quality of the air you breathe and it will also improve the circulation of air.
Keep Grill Clear
Air is pulled in from the grill in front of your windshield. If it is clogged with debris such as leaves, the AC system will have to work harder, and it will be less efficient. Make sure that if you notice any debris on your grill that you remove it right away.
It is possible that the debris makes it past the grill and makes its way to the cabin air filter. As mentioned in the last tip, a clogged air filter prevents the proper circulation of air in your Jaguar's cabin.
Charge The AC System
If your Jaguar's AC is running but cold air is not coming out, you may need to charge your AC system with Freon. It is recommended that you get your AC charged every two years to keep the Freon at the appropriate levels.
However, there may be a leak in your system. If there is a leak in your system and you add additional refrigerant, it could leak out quickly based on the leak's severity. If you experience warm air coming out of your AC, it is time to get it checked out by our certified professionals.
Run the AC Regularly
You need to ensure that you run the AC in your Jaguar for at least 10 minutes a week to keep your system running smoothly. Your AC system uses gases to keep you cool. By running your system, it gives it a chance to pressurize and keep your compressor running.
Use Your AC All Year Long
It might seem counterintuitive to run your AC during the winter, but you still need to run the AC to keep the system pressurized and the compressor working. If you don't, you may have an unpleasant surprise when you need to use your AC when it gets warmer.
An additional benefit of running your AC during the winter is that it removes humidity from your cabin. With less humidity, your windows will defog, and your visibility will increase.
Get Your Air Conditioning Serviced At Hi-Tech Import Automotive
At Hi-Tech Import Automotive, we care about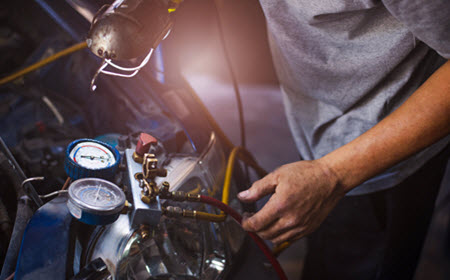 our community and are proud to serve Downers Grove and the surrounding areas of Burr Ridge, Clarendon Hills, Hinsdale, Oak Brook, and Westmont.
If you are looking to get your AC system serviced, charged, or repaired, our team of experienced ASE-certified technicians will get the job done. Our mechanics are equipped and trained in using the latest tools and technology to get you back on the road fast.
We want to make sure you stay cool in the heat, which is why we can offer same-day service for most vehicles. We will give you premium service at discount prices. Make an appointment online, by phone, or stop by our shop today.
https://hi-techimport.com/wp-content/uploads/2021/05/Jaguar-AC-System.jpg
500
915
Nihat Salievski
https://hi-techimport.com/wp-content/uploads/2021/03/logo.png
Nihat Salievski
2021-04-25 09:36:02
2021-05-01 10:02:52
Tips to Maintain Jaguar's AC System